Keyword Research is one of the most essential component in SEO. The success of your Business website or blog can solely depend on the keywords you choose. With so many tools and resources available in the market, keyword research has really become easier compared to what it was 10 years ago. Today, you can easily fetch powerful keyword ideas by spying your competitors.
You can spy various websites, blogs or bloggers and find many money making niches. In this article, I am going to show exactly how you can spy and find other websites and blogs of your competitor.
But first, let me clear the fact that Spying is not illegal or unethical (your perception may be different). We simply use available resources to fetch low competition keywords/untapped niches or untapped markets.
How to Find Other Blogs & Websites of your Competitor
Whenever you build a website, there are certain data points or codes that cannot be hidden. Your Competitors can easily reverse-search those codes to find other blogs owned by you.
That's exactly what I and many others do to find new niche ideas and keywords.
If I find a really good, unique or low competition niche, I check out the search results for niche sites and then I spy those people. This is because, those people might also have some more sites on unique keywords.
You will understand it better as I explain you the methods.
I have a total of 5 different spying techniques. Once you start applying these, you will feel more confident in keyword research.
Excited??
Anyways, here's the first method.
1. Spy using Email ID
Whenever you buy a domain, there's an option to add Whois Privacy. This feature hides all your contact information from public.
But, a lot of people don't buy Whois Protection with their domain purchase. We can literally pull out their Email ID and get the list of all domains bought under that email account. I buy domains from Namecheap as they provide Free Whois Protection with every domain purchase. 
Here's how you can do this for free;
Step 1: Open http://website.informer.com/search.php
Step 2: If you have email id of your competitor, directly type it and press enter. If your target used his email ID without using Whois, you can see other domains that he bought using the same email id. 
Step 3: If you don't have the email id of your target, simply put on a domain name and press enter. (Let's put my Brother's website URL :P)
Step 4: You will see an option called "See Owner Emails". Click on it. You can now see the email ID of the domain owner.
Step 5: Just click on the email id and boom… All the domains under that email id are in front of you. 
Here are some domains owned by Neil Patel under his company email address;
Isn't this method cool?
Well, what if you don't have a domain name to start your search with? I have some tips for you;
We all get tons of comments on our site. You can go to comments page of your WordPress and get the Email id of everyone who commented on your website. Spy those Email Ids, you may find some more niches. 😉 (Check Email IDs that have a Gravatar image. This way you will be searching mostly primary email Ids of other people). 

Search any upcoming event keyword (Like; Happy New Year 2020 Wishes), get a list of ranked EMD/PMD domains and put them on this tool. You can find more event/niches/keyword ideas by doing this.
The above 2 tips can alone help you find tons of untapped or low competition keywords. Just give enough time to your research and you will master this art.
Let's move onto the second method;
2. Reverse AdSense/Analytics Lookup
The first method may not help you get the best results as many people buy WHOIS protection with their Domain. However, this method will work on all Adsense sites. This is a very simple method but since its very useful, many people avoid sharing this publicly. 
Since, we bloggers run many sites, it becomes really difficult to use separate AdSense accounts for each site. Most people use same AdSense account on 3-4 sites. The AdSense Ad code has a publisher ID that is associated to that particular AdSense Account.
If someone is using the same AdSense account on multiple sites, we can simply do a reverse lookup of publisher ID as it will be the same.
Same goes with Google Analytics code. The same user ID is allotted to an account (unless you don't create a new one).
Well, these codes (AdSense/Analytics) cannot be hidden and you can find them on the source code of a website.
The whole idea is to find sites using the same AdSense or Analytics ID.  
Why is this method so powerful?? 
Let me answer this with an example….
Suppose you find a low competitive keyword. While doing a Google search for the keyword, you find a niche blog (EMD/PMD/ or even branded). You open it, see Adsense ads on it, and the content also impresses you. Won't you like to know more sites of the same person? Well, this is how this method will work. Using this method you can find all the sites associated with an Adsense account. You can find out other websites of the same person and who knows you may end up finding some more powerful yet simple keywords. 
How to do?? 
There are many free tools that help you find the sites using the same analytics ID or the same Google AdSense ID.
Simply go to Dnslytics Reverse AdSense page and enter any domain name. The tool will show you the list of other domains using the same AdSense.
Sometimes, you won't get results by typing in the domain name. In such case, open the source code (Ctrl+U) of your target domain and search for "adsbygoogle" or "pub-" to get the publisher ID. 
There are many other reverse AdSense or Analytics lookup sites but I personally recommend using DNSLytics as it has clean interface and useful extension.
I personally have its Chrome Extension installed on my browser. So whenever I come across a good AdSense Niche site, I simply hit the extension button to get the list of all other domains owned by the same person.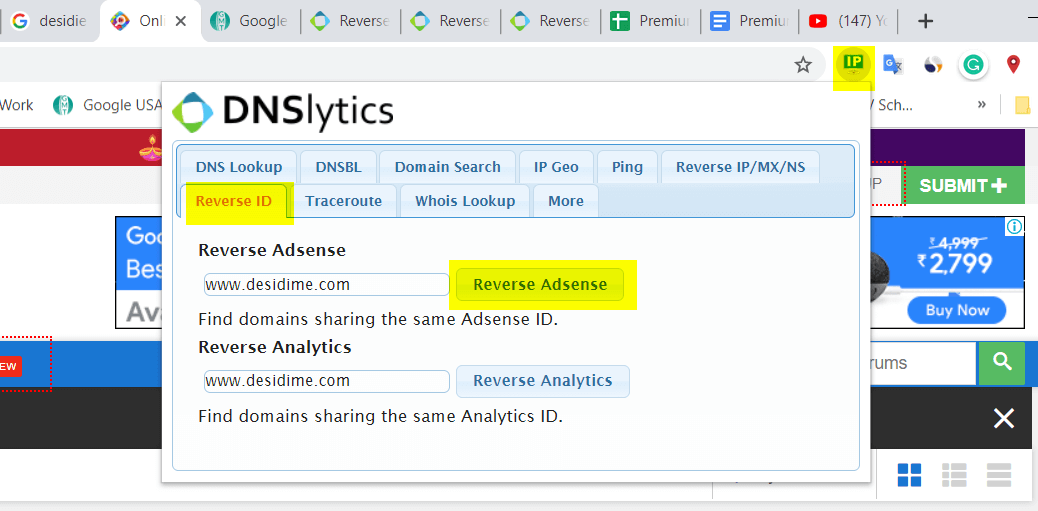 Note: A few of my micro niche sites are built only after finding keywords using this method.
This simple method is enough for you to find 100s of niches or keywords for FREE. You really don't need to have Ahrefs to find keywords. Using this, you can easily find unique keywords for free.  
So next time whenever you find a good APK blog, event blog or micro niche blog, simply use this reverse AdSense/Analytics Spy technique.    
3. Spy Neighbour IPs
These days many bloggers are using DigitalOcean Server (or other personal VPS for hosting) instead of using Shared hosting. This means they get a single Dedicated IP for their droplet. It is well known that we can host multiple sites on a single droplet. (Even I host more than 1 site in a single $5 Droplet). 
So if someone is doing this without using Cloudflare, we can easily find out all domains hosted on a single droplet or IP.  
Here's how you can find other sites of your competitors by Spying their IP address.
Step 1: Go to https://securitytrails.com/ and type the URL of any site hosted on DigitalOcean or a dedicated server. 
Step 2: Once you press enter, the site will show the list domain records including the IP address.
Step 3: Click on the IP Address and you will get a list of all domains hosted on the same IP Address. 
Since we are spying Dedicated IPs, it is obvious that all domains hosted on that IP belongs to a single person. 
Using this method you can find some really amazing niches of your competitors. Infact the example domain I tested above got me some micro niche blog ideas.  
Test yourself and see if it works or not. Believe me, these methods are really powerful and many GURUs are charging money to teach these Spying methods. 😉
4. Find Other Blogs of Competitors Using Ahrefs
Ahrefs can be used to spy your friends and competitors as well. Infact, this method can help you get some really good keywords!!
The method is so simple yet overlooked. Many bloggers often give backlinks to their other niche sites. And this is what we will be exploiting here.  
Open Ahrefs.com and enter the site of your competitor and click on Outgoing links. You will see small list of outgoing links. Sort the list with Domain Rating and see the domains of low rating. You will often find other blogs owned by the same person. (If the person sells backlinks, you can find blogs of others).
Here's a good example;
I found one domain and using that I found 27 more sites of the same person.
Another example;
This process may not always show you the sites of same person, but it is still a very useful method to find new niches and keywords.
I use this technique on sites that sell links in the form of Guest posts. You can try the same and get some amazing niches to work on. Once you find a good niche, research some more sites in the same niche and apply Sweet Steal Technique to get good results 🙂
5. Spy Using Common Website Content
Most of the bloggers often use the same content on many of their sites. For example, A blogger might be using the same "About Us" or "Contact Us" page content on all of his sites.
We can copy a portion of that and do a Google Search to find out other sites of the same person.
Let me show a live example (without revealing the person and his sites).
From this Contact Page of this site, I got the email ID of the person. Now I can simply search his email ID on Google and get more sites of the same person. You can use Google Search Footprints to Refine your search results.
With the above Email ID, I was able to find out a total of 12 domains of the same person. I am not showing a snapshot as it may reveal the details of the person.
Apart from Email ID, you can also search your competitor's "Author Bio" or "Advertise Page content" on Google to find other websites of him/her.
Some More Methods
Well, apart from the above 5 methods, here are some more spying tips and methods.
Spy Social Profiles (Facebook, Twitter, etc) of your Competitor.
Check out your Competitor's Quora Profile
Check out Medium, Linkedin and Pinterest Profiles and posts of your Competitor.
Reverse Amazon ID Lookup using Free Tools.
These were some of the best Spying techniques to find out other blogs/keywords/niches of your competitors.
So, next time when you don't have any keyword or niche idea in mind, simply start spying a few blogs. You will definitely get some money making ideas.