In the current scenario the gist of internet belongs to blogging and one such renowned place is
WordPress.com
which provides not only the blogging platform but also a hosting service.
Provided with the platform the next important thing that comes along is the theme you want to work upon!
InkThemes
is one of the leading company on internet which offers you with a wide genre of
Premium Themes
and most suitable ones for your site!
Why InkThemes?

Well There are undoubtedly many companies providing WordPress themes but why Inkthemes?
I have always seen a new company coming up in the market, which provides a promising start but the future remains uncertain. Beginning from cheap rates, they soon starts providing low quality services at very high price which sounds really bad. But the quality of themes, this company provides is comparatively high and I personally recommend it for professional use.
Features of InkThemes
Single click installation: Installation of InkThemes is as simple as the ones that anyone can imagine.
All you have to do is follow the following steps-
Go to <<< Dashboard <<<< Themes<<<< Add new<<< Upload<<Activate<<< and VOILA.. it's done!!
A wide genre: InkThemes provides you with a wide range of themes which can suit any business niche and give a professional look toyour blog.
Updates: All the themes here are regularly updated for free, which many other companies do not provide you with. The team is working very hard to give the best integrated features all the time. Isn't it awesome, which keeps you moving with the latest features.
Multiple Domains: What if you have purchased a theme for your site but you want to create one more site using the same theme and I say you to purchase the theme again! Isn't that ridiculous! But InkThemes has a solution for that too and so therefore you can use multiple domains under the same theme with just one payment which other companies usually don't provide you with.
Customer Support: For anybody who is using theme for the first time might face problems. But they have given a perfect answer by providing you with a 24*7 support and instant reply. So you can take help from customer support as well as post your questions in the forum too.
Plugins: Well last of these but certainly not the least, WordPress has provided a lot of plugins for free.
But why am I stating it uniquely? It is because InkThemes have developed their own plugins integrated with each theme which helps customizing them far more easily.
Premium Features
Few other things that I will like to mention separately and that's because of its uniqueness!
Theme Graphics
Gone are the days of fancy designs InkThemes provide you with the themes having a modern clean look and try to focus on content rather than extrovert designs. With the trend of going more and more towards having as few design elements as possible this approach is seriously a good one.
Free Trial Versions
Well this certainly is one of the best feature of InkThemes which rarely is provided by other companies. InkThemes offers a trial version for you before buying and you can actually use the theme and check it whether it's suiting your site or not.
Theme Pricing
You are impressed by the themes and now you want to buy them and if you are worried for the prices of the themes, then let me tell you ignore such a worry.
InkThemes
have a pretty straight forward approach in it. They offer a single license for one specific theme or if you are someone who doesn't get content with a single one, InkThemes has an answer for that too, buy making an offer price for
all the themes at just $147
and then you can
use them for unlimited amount of domains.
SEO Optimized
Well undoubtedly this is one of the major factor for any company, and unfortunately most companies lacks in it. But InkThemes have all their themes SEO optimized so it can be readily used for any business niche.
Final Words: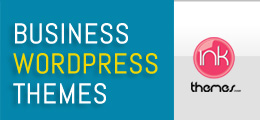 InkThemes
not being established like other big theme clubs still have made their own point in the respective field. And that is because they like to fight for their customers and in turn cares for each one of them. They try to interact with you personally and really finds a solution that makes you happy which turns out a huge bonus for you.

I will rate "INKTHEMES" as HIGHLY RECOMMENDED for both experienced bloggers who want full and deep control over their sites or the new ones who want a new learning experience or plan to invest in blogs for long term!
So what are you waiting for GO GRAB IT NOW!!
SignUp Now