But basically what is Stock Photography?
According to Wikipedia
,
 Stock Photography is a supply of photographs which a licensed for specific uses. This helps to fulfil our need of hiring a photographer. One can easily find a stock image relevant to his/her niche and use it at a very low cost.
This is very simple and fast as you can directly buy the stock image from the respective website and it gets delivered to you within seconds. Still you should know
some rules
 regarding the use of stock images.
There are many websites from where you can get high quality stock images. Some are:
Shutterstock
Istockphoto
Gettyimages
Fotolia
Stockfresh
These websites provide high quality stock images for very low prices. But there are many people who want stock images for free. Many of them try to download stock photos of the above websites from other sources which is not good. This violates the rules of the respective stock image.
Instead there are many other alternatives to find stock photos for free. And these are also very high quality images. The hard part to believe is that they are all for free!
I myself have got many messages from different people specially the bloggers asking questions like:
Where to get Free images for Blog posts ?
How to get awesome images for free ? 
How to download free stock photos ?
What are the best sites to download stock images ? 
And the list of questions continues, so this post ultimate resource post will surely answer all of your questions.
In this post we will uncover 11 great websites to download stock images for free. So let us jump in and discover those amazing websites.
Pixabay is just like Shutterstock. The only difference is that they provide high quality stock photos for free. All the stock photos can be used personally and commercially. They currently have a large database with over 400,000 images and all of them can be used freely.
Finding free images of high quality is a tedious task – due to copyright issues, attribution requirements, or simply the lack of quality. This inspired us to create Pixabay – a repository for stunning public domain pictures. Your source for free vectors, free drawings and free photos. You can use any Pixabay image without attribution in digital and printed form, even for commercial applications.
Editor's choice section is another reason why I love pixabay so much. This section contains stunning images hand-picked by their editors. I am damn sure that this page alone can fulfill all your needs.
They add highest resolution stock images daily on their database. The photos added by Stocksnap.io are released under Creative Commons and hence they do not require attribution. The good thing about this website is that they only accept good high quality photos. They also link back to the profile of the photographer who submits stock photos for their website. 
We select nothing but the highest quality, highest resolution pictures and add them to our database on a daily basis. This is not your typical crappy stock photo site. – Site Extract
They also provide totally free stock photos for personal and commercial uses. Another thing about Pic Jumbo is that they give extra high resolution packs to those who become premium members which is only 6$/month. This subscription provides 30+ stock photos in your inbox every month.
Unspalsh provides high quality stock photos. Most of the stock photos are related to nature. According to Unsplash's license, you can copy, modify, distribute and use the pictures absolutely free. If you subscribe to their newsletter you will get 10 new photos every 10 days.
Designers Pics is founded by Jessu John from India. All photographs are captured by him and are free for personal and commercial uses. 
You can find many photos, templates and much more for designers, photographers, for websites etc. The free resources provided by IM Free can be used for commercial purposes. All the photos and templates are cleanly organized and the photos are of very high quality.
Many people don't know but Flickr can also be used to find great and useful stock images. You just need to type in your keyword to search and after that in the license tab click Creative Commons only. For instance, I searched for design on Flickr. Lot of amazing photos there but not all were commercially free.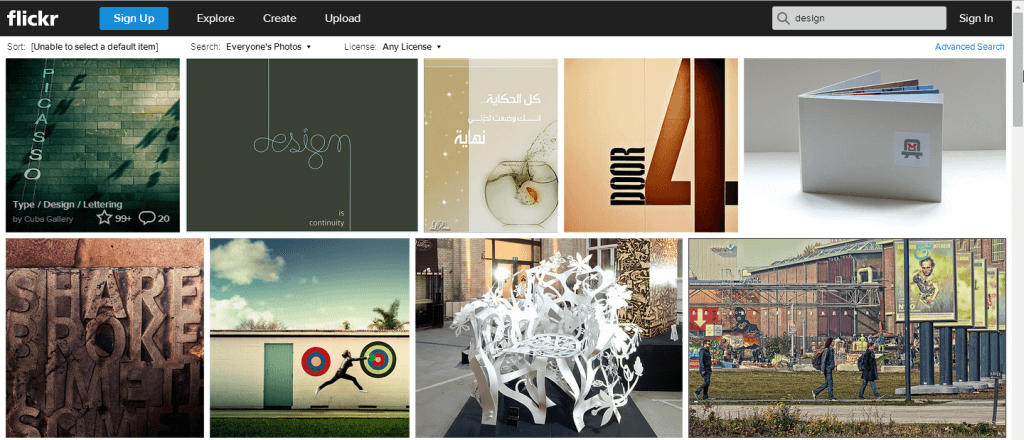 Then I selected the Creative Commons license. 
You can now see that still there are great photos which can be used and modified for personal and commercial use.
The same way you can find stock photos from Google images. The difference is that you will not find as good photos as in Flickr.
SplitShire is another great place to find delicious high quality stock photos. The stock photos are really helpful for designers, developers and bloggers. You can use them personally or commercially.
They provide high resolution images which can be used for print, advertising, mock ups, blogs, businesses and newspapers. Their stock photos are completely free except selling their stock photos.
All the pictures added by Gratistography are really cool and awesome, they always make sure that to add pictures under all categories thus taking care of all their users. This site provides free images that can be used anywhere freely.
As the name suggests, this website provides the best stock photos for startups. Though they do not have enough photos but still the ones which are available are amazing and free to use. Mostly all the stock photos they are provided are suited for small businesses and startups.
Final Cut
So this was a 
list of best free websites to find stock photos. 
I think these 11 are enough to find the perfect stock photo for your work. But before you use any stock photo, make sure that anyone else is using it or not. For that there are many websites. But the one which you can use is
TinEye.
 You can 
either upload the image or paste the web address of the image
. It just 
performs a reverse search 
and tells you whether you the places a particular image is used, it also lets you know source of the image.
And the last thing you need to know is that you should always use stock photos that are relevant to your topic. Don't use stock images just because they look awesome. Make sure the stock image you are using is connected to your topic. So now stop using Google Images for your blog posts, rather use any of these sites.