Freelancing
has become very common now and there are many competitors today. Due to this, many of us do not get a chance to earn and we end up with nothing. The main reason for
failure in freelancing
is that most of us don't know what we are doing and just working on it without having any knowledge of it. In this post I presented some
strategies and tricks to earn money from Fiverr in the coming year 2015
. The below sections will provide amazing tricks in depth so that you earn money with Fiverr. But first, let me tell you what you will learn in this post.
Also Read – Top 10 Freelancing websites for designers and developers
What is Fiverr and how it Works
What to not sell on Fiverr
Getting orders for your gig
Some Tips to maintain the flow of income
A Trick that can make you rich
Making your Fiverr profile shine
What is Fiverr and how it Works
Fiverr is an online marketplace to buy or sell services. All the services bought and sold in Fiverr are of 5$. There are many categories of services from online business and design to some crazy stuff. Fiverr charges 1$ for each sale. So if you sell a gig, you will get 4$. That is quite low but here you will be learning how to earn thousands from Fiverr.
What to Sell on Fiverr
Since you will get only 4$ from each sale, you should think what can you offer the buyers. Think of gigs that don't require very much hard work and time. This is true because the buyers on Fiverr want their service ASAP. And you will also not spend your whole day for just one gig. And if you do this, you will be out of time to complete other gigs. There are different types of buyers on Fiverr namely:
Individual Business Buyers
Company/Organizations
Fun Buyers
Individual Buyers 
These are the individual buyers who spend on some gigs that help in their business or work. You can target such people by creating gigs like –
"I will create 5000 backlinks of your website"

"I will get 10000 likes to your Facebook Page"
"I will write a 500 word article that passes copy scape"
These gigs sell a lot on Fiverr but to get orders for such services is hard as there is a lot of competition in these gigs. Moreover people prefer to buy services of those people who got good review or ratings. But that's not the point of worry. If are worried by the competition, then you will never succeed in life. Just give it a shot and check whether you are getting response or not.
Company/Organizations 
These buyers are also similar to individual buyers but these buyers are usually long term buyers. A survey showed that Company/Organization buyers tend to keep a long relationship with their sellers. So if your gig is ordered by any company or team, then you may get future projects with them. For this reason it is very important to maintain good contact with such buyers. Not only this, these buyers can order your gig in bulk. But the best part is that these organizations have a strong social circle. So if they are impressed with your service, they might share it to their clients and such other people. This can get you more orders.
Fun Buyers 
Funny buyers usually buy gigs for fun. They don't mind to spend 5$ on a funny gig. One day while searching, I found some gigs which are most selling and contain all fun type stuff.
Some of the gigs are –
"I will say anything as Harry Potter"
"I will write your message in the sand on a beach"
"I will write your name in calligraphy"
"I will reveal spoon bending trick"
Well these gigs have got a good market because there are many different things you can do and sell them on Fiverr. Just search yourself for some fun and bizarre gigs and you will get many ideas of what you can do and earn.
Okay, these were the gigs that can be sold on Fiverr. But there are some gigs you should not sell on Fiverr.
What not to sell on Fiverr
Never try to sell gigs that are too much attractive. Once I saw a gig "10000 backlinks in 1 Hour". I just clicked to see what the person is selling and then I saw the ratings and the comments. Well the seller did provide huge number of backlinks but they were all of low quality. So because of such non-sense gigs, your profile can be filled with negative ratings and reviews. So try not to sell such gigs that can destroy your Fiverr profile and then you will have to create a new account.
I also did the same mistake once. The gig was "I will setup your template on Blogspot blog". I just got one order but that order became a mess when it took so long to fix one bug in the template. At that time, I was not familiar with HTML and CSS. But this gig can get even worse when you are providing the person with a free template and are not able to fix an issue. So never try to sell gigs about which you have no knowledge.
So since now you know what you can sell, we can head over to the next section about creating gigs.
Creating gigs that sell on Fiverr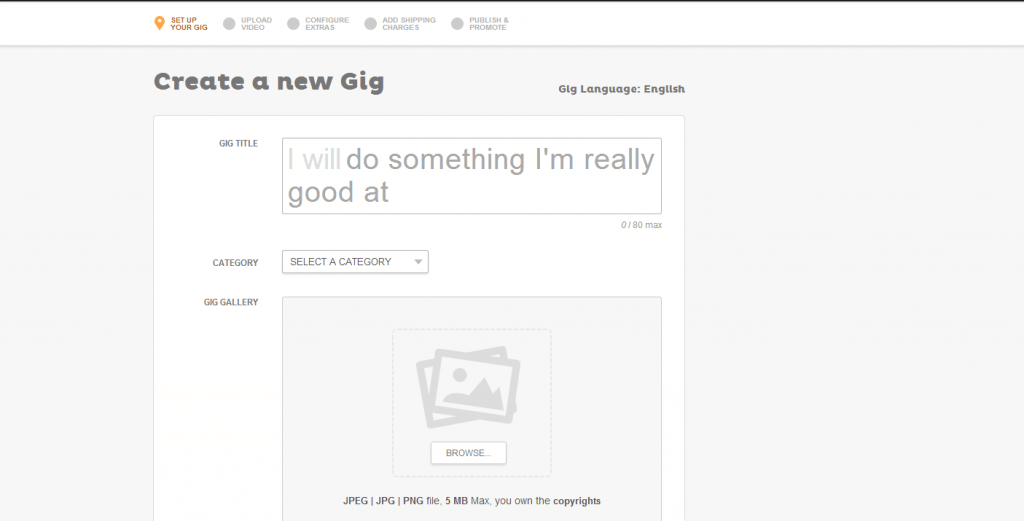 Title
The first and the most important things you need to know are about the title. Make your titles short and attractive. You can use 1 word with capital letters. So just use your brain here and see what keyword you want to highlight on your Fiverr gig.
Description
When I created my first gig, the description was very long. This is not good as the buyers want everything explained to them in detail but in short. What type of description would you want to read when you buy gig? The answer is simple. Make descriptions short and explain everything to them in a short way.
Do not add other matters that are not related to the gig. Also make your important keywords bold and highlight text wherever necessary. If you are thinking to highlight text, don't make your description fancy with different so much bold text and underlined words.
Video
It is recommended by Fiverr to add a video to your Fiverr gig. It is a very important factor to get buyers for your gig. This is true because if your gig is something serious, then the buyers are also serious. There are some buyers on Fiverr who use their money very carefully. So if they watch a 60 second video of yours saying what you are selling and some features of the gig, the buyers will order your gig in comparison to those without the video. If you are camera shy or you do not want to speak in front of the camera then just make a 60 second video with a movie maker. Just add a soft music and make some slides or pictures stating about your gig.
Picture and Portfolio
Just upload relevant pictures about your gig. Create your own picture using paint or other simple software. Don't even think to use Photoshop for a minute job of creating an image. Also upload some other pictures of your work you will do. Your portfolio is very important for buyers. So if they want a logo which you are providing but haven't uploaded any projects, then the buyer will never turn back. Never copy others image and upload it as yours. Use google images to search for relevant pictures of your gigs and then turn on the label rights filter.
Tags
Use tags that are relevant to your gig. Do not use unnecessary tags for your gig. Your gig can be deleted because Fiverr will consider it as spamming. Also your Fiverr gig will be shown in such places where it is not required and as a result you will get no orders.
Getting more orders on your gig
Here comes the part of promotion. You can create a personal YouTube channel to promote your Fiverr gigs. Many people get flooded with orders by creating a blog about their services and promoting it. But the most helpful part is social media. Create a fan page on Facebook, Twitter, Google+, LinkedIn and other social media websites to promote your gigs. Join Fiverr groups and promote your gig. But maintain a limit of your promotion because Fiverr can delete your gig anytime. This happened to many people and you can read on Fiverr forums about such cases. Got money on Fiverr? Then just buy some authentic traffic for your gig.
Tips to maintain the flow of Income
So if you are getting orders then it is necessary to maintain your income. You should continue getting more orders. By this way you can earn passive income by Fiverr. Some tips of doing this are –
Conversation with buyers
It is always important to be kind to your buyers and having a good conversation. Never use false language or talk rudely to your customers. If your buyers are happy with your service, they can come back again with more orders or refer your gigs to other people also.
Maintain your gigs
If your gig is selling good and you have added some gig extras, then do not make any changes to your rates. If you are thinking that buyers love your gig and increasing the price of your gig extras (if any) will help you, then you are wrong. Just keep in mind that you are not the only one who is selling on Fiverr. There are people better than you or people who can be better than you if you do some silly mistakes.
Creating New gigs
Just never get stuck at limited number of gigs. Expand your gigs and create different revisions of your gig by giving much more to your buyers.
Promotion
If you are getting orders by promoting your gigs, then don't stop promoting them.
It is very helpful because as your social media presence increases, you will get much more orders. Also ask your customers to leave a positive feedback if they liked your gig.
A Trick that can make you rich
Well this has now become very common, but still you can earn huge piles of money by using this trick. It's just selling PLR products. Make gigs like:-
"I will give you over 50 PLR articles related to lose weight"
"I will make you lose 20kg in 30 days"
Just provide them the PLR books/content and earn money. This has got a large market as you can find different PLR books. But never hide what you are offering to your customers. Otherwise it will lead to negative feedbacks. Just search some gigs on Fiverr that sell PLR articles and see what they are offering and how they are offering. You can see on Fiverr forums how people are generating money using this trick.
If you want PLR Articles worth 300$, do shoot us a mail, we will send you all for FREE.




Making your Fiverr profile shine
If your Fiverr profile is updated and has everything about you, then it is good because profile matters a lot. Write an awesome Fiver bio. Don't write fake information or skills about you. Just write what you are but in a good way. Upload your profile picture. Check the profiles of top sellers. You will see what and how they present their profile. If your profile is neat and clean then there are more chances of getting orders on your gigs.
Conclusion
Well that's all. I hope you may have understood how to use Fiverr. Just some more quick short tips that can help you –
Use Proper English and Grammar in your gigs and in your conversations with buyers.
Do not use Stock images.
Explain what you are offering.
Explain what the buyer will get.
Respond to negative feedback positively.
Use keywords relevant to your gig.
Also Read: My Success Story at SEOCLERKS
These were some short tips. Now you can start your Fiverr journey in 2015 and earn passive income or generate full income with Fiverr. Just be patient and you will get orders. It can take months to get orders. Clarify your queries by commenting below.