Ever heard WP Engine? Well, whenever we talk about Premium WordPress hosting, WP Engine is the name that comes first.
It is one of the first companies that provide with managed hosting services specifically for WordPress. The hosting industry has become the biggest platform. Some of the bigger brands such as GoDaddy, Bluehost, HostGator and InMotion etc. offer various zests of "WordPress Hosting. WP Engine basically specializes in VIP managed WordPress Hosting.
They have got a huge list of customers that includes Yelp, Asana, National Geographic, PBS, and MyFitnessPal. No doubt they have plenty of competition in both hosting and managed WordPress hosting they have become a market leader with cutting-edge features.
So here is the WP Engine review with all its pros and cons that will help you understand it better this hosting service. Let's have a look what makes WP Engine a recognized brand.
[toc]
WP Engine Hosting Review
WP Engine was founded in 2010 so in that terms is quite a new name in the hosting world. Jason Cohen, a social entrepreneur started WP Engine when he realized a need for WordPress hosting. It has its headquarters in Austin, Texas and has now become a community.
It is a private company built with WordPress for premium managed hosting service with a huge number of employees over in 120 countries.
WP Engine Features
When you run some heavy business you cannot let yourself do all the work alone. This is exactly the principle behind WP Engine that functions to secure your WordPress site, optimizes your server settings for loading it fast and automatically updates plug-ins.
But apart from this, there are plenty of other features that let our technical work done rightly.
WP Engine is capable of serving your content quickly to the users whether you are hosting a blog, owning a professional site or an online store. The speed of the site is at enhanced rate and the company optimizes page load with proprietary WordPress specific EverCache system. CDN service helps your site load for customers to the world and hence all its plans include global CDN. 
Thus, WP Engine is able to load your website at the fastest speed. You can always learn more in detail about how WP Engine Page Performance can improve your conversion rates by making your site faster.
Talking about performance or uptime, WP Engine is capable of achieving over 99% uptime.
This is all due to the world-class network infrastructure. It also allows you to get better site speeds by choosing to host your website on servers that are closest to your target audience for it is present in many countries.
WP Engine holds a support team of about 100 WordPress experts. With this, they are capable of boasting over 97% customer satisfaction by interacting timely with thousands of customers per day. They also offer 24/7 service through live chat option along with phone support. In case the issue is not resolved via chat or phone then the team or staff will create an internal support ticket for you that you can access via email.
With WP Engine you get a substantial 60-day money back guarantee. If you're not satisfied with their service, you can anytime cancel your account within the first 60 days. You will receive a full refund. This guarantee comes with the Personal, Professional, and Business plans only.
E-Commerce and Email Marketing
Since WP Engine specializes in WordPress hosting, so you should tap the massive CMS plug-in library for e-commerce tools. There are numerous email marketing tools available. Drip, DirectIQ, Mailflow, and many other companies offer WordPress plug-ins that allow leverage customers' email addresses to make money. But the e-commerce and email marketing companies will charge you a small fee in exchange for their services.
Advanced Security Features
One of the strong suits of WP Engine is its way of securing websites. The company takes several dealings to safeguard WordPress sites.
WP Engine also runs daily the malware/virus scans and even monitors an updated firewall blocking the latest threats. It's all plans come with automated SSL certificates. In addition to this, there is a one-click restore function that can help you recover your website in case of an attack. In case your site gets hacked, WPE will clean it for free.
WP Engine Pros and Cons
It is rightly said that every service or brand is not right or well-suited for everyone. So before choosing the plans of WP Engine it's better to have a look at its flaws and advantages.
PROS
WP Engine keeps your site protected with its advanced security features.

Provides fast loading times to the servers optimized just for WordPress

You also get access to their CDN for Free.

WP Engine's proprietary front-end layer system handles traffic spikes easily without slowing down site.

Its staff is comprised of trained WordPress experts with reliable and excellent customer service.
Cons
With WP Engine you cannot install certain plugins on your WordPress site. This is because they conflict with duplicate WP Engine's features, or even cause a high server load. It includes some caching, backup, related post plugins, and others.

WP Engine offers only hosting services and not the domain registrations. This becomes inconvenient for some users.

When comparing to shared hosting, WP Engine proves to be more expensive.
WP Engine Hosting Plans
WP Engine offers 3 different hosting plans, namely; Startup, Growth, and Scale. (Our Links will offer a 20% Discount)
If you look closely at the plans, you can easily understand the major differences.
If you are a starter, the first plan fits perfectly for you as it offers 1 site with 50 GB Bandwidth along with Free SSL and CDN. Also, they offer free migration service.
On the other hand, if you are a regular blogger or someone with multiple sites you can pick growth or scale plan as per your requirements. The Growth plans look perfect for bloggers like me.
Hence WP Engine comes with one of the most comprehensive and advanced features.
Is WP Engine Worth the Money?
Recently on 28 February 2018 WP Engine announced its new pricing plans as Personal, Professional and Business at a slightly higher price. It was named as StartUp, Growth, and Scale. To be honest, WP Engine is not exactly for the sites with low traffic. The Startup plan allows only one installation per account with a charge of $20/mo per additional site. Hence for users with multiple low traffic sites, it will be much cheaper to go with a shared hosting service that would cost less than $10 per month.
No hidden fees or surge in renewal fees

No lock in contract

Refund or cancel account easily

Costly for owners running multiple WP sites

Slightly expensive
WP Engine Review Verdict
WP Engine is one of the leading leaders in Managed Hosting for WordPress. Taking into account all its blemishes and profits, it makes it very hard for us to say whether WP Engine is good enough or not.
I would not recommend WP Engine to everyone because for this you need to run your site using WordPress. But at the same time, it can be a gem for developers whose sites attract huge traffic.
So if you are into making a huge profit with WordPress as your source of income you can surely go for WP Engine. Therefore, it is all up to your needs and requirements whether to choose WP Engine or not for is a great asset in today's market.
Wp Engine Discount Coupon Codes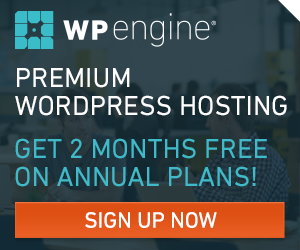 We have some of the Best WP Engine Coupon codes that will help you buy your preferred plan at a cheaper price.
[mks_button size="large" title="CLAIM DISCOUNT" style="squared" url="https://shareasale.com/r.cfm?b=917225&u=1293467&m=41388&urllink=&afftrack=" target="_self" bg_color="#1e73be" txt_color="#FFFFFF" icon="" icon_type="" nofollow="1″]
Use Coupon Code: wpe20off
Bottom Line
Well, this was all about WP Engine Review. So if you are looking for an ideal, premium and hassle-free WordPress hosting then WP Engine is the best choice for you.
With technological advancement in its features and funding by a large group of investors, WP bloggers consider it as the best-managed WordPress hosting. Now it's your turn to make a decision.